Cheats and Hacks
Cheats and Hacks go hand in hand when any new game is launched whether it is a Facebook game on social media, PC games, Multiplayer games, free game apps for Android or iOS or Mobile games, FPS games, League games or any online casino games. The most common reason why cheats and hacks are associated with any kind of such above game is as players want to win the game.  
Difference between Cheats and Hacks
Cheats means any player cheating in the game play or violating the game rules, where as Hack means to devise or modify a game (computer) program usually skilfully, or to circumvent security and break into (another's server, website, or the like) with malicious intent.
Hacking could be a higher level of cheating, because hacking could include more skills than simply cheating by using cheat codes. However, the cheat codes can actually modify the game.
Is cheats or hacks a good thing?
The answer to this question varies from player to player as well as what kind of cheating does player adopt. Like for some players cheating can be a good thing. Gamers look for cheat codes into games to unlock special modes, to obtain weapons, to give players infinite ammo, or extra lives. As you want free coins to play in Double down casino or Slotomania game app you look to get codes to redeem free coins.
The reason those cheat codes exist is that the developers knew their prospective players would want the option to play the game in those ways: to skip levels and open up options. This kind of cheating isn't really cheating at all, it's more like an admission by the game designers that the rules they've made might as well be bent, and even formalised with specific keys to unlock them as the player sees fit. They're an extension to the original game.
Cheating, when not playing by the rules of a game, and benefiting from your actions as a result is not good as there are several cases where cheating isn't simply a cheeky secret hidden inside the game, but an outright violation of the way you expect games to be played.
The most famous of these cheats are probably 'hacks' and 'bots', in which games are either rewritten by players for their own ends, or are played out by computer programs to the benefit of the player who uses them.
Also in many game situations when in a single player game that allows the computer side to 'cheat', because it can't rely on AI to challenge a human player. Also when developers themselves manipulate their own games, to give themselves an unfair advantage in play such cheats are also prevalent which to many players is fair.
Cheats and Hacks at casinos
There have been many stories in history where cheats and hacks have been active at casinos specially land casinos. Players used card marking or card counting in game of Blackjack, or top hatting in roulette, dice changing; or altering the slot machines have been common cheating methods.
No matter how hard the casinos try to keep cheaters out, though, some groups will continue to penetrate their defences and succeed at scamming casinos for large amounts of money, at least until they get caught. One recent example is that of the Tran Organization, which developed a system by which they managed to rip casinos off for nearly $7 million.
The scam was complex in the number of players who were involved: over 40 members of the Tran Organization would eventually plead guilty to various charges for taking part in the scam. However, the actual techniques used were rather simple. Essentially, Van Thu Tran and her husband (the leaders of the group) found ways to bribe dealers into helping them at baccarat, Pai Gow poker and blackjack tables at nearly 30 different casinos across the United States and Canada. Tran would work to seduce and bribe male dealers into doing exactly what the group needed in order to make their scheme successful.
While the scam was about as well-conceived as any could be, the Tran Organization was eventually caught. Casinos and law enforcement agencies, such as the FBI, began watching for evidence of the scam, and caught the cheaters in the act and the group were arrested.
Online casinos cheats and hacks
The following are the most common cheats found at online casinos:
Getting bonuses to play slots Or the way you get and play the free bonuses on the main accounts.
Players clone their accounts to get additional first deposit bonuses.
Players who want to win at the casino without any deposits. They are looking for no deposit bonuses and register an infinite number of accounts in order to get them in unlimited quantities.
Finding which slot machine has errors in their program thus getting an advantage over other players.
Hacking programmers, who are trying to find vulnerability in the system of the software and get a rare advantage by interfering in the programming part as slot machine with low-grade software  could well become the target of hacker attacks.
There are Carders or crooks who steal credit and debit card data and passwords from payment systems. Usually such hackers choose the houses with quick payments, because it is important to complete the act of fraud before the victim discovers the loss. By the way, for such activities in the virtual space the term of imprisonment is quite real.
How could you cheat at the online casino?
Here are few good cheats that you can do to play slots at online casinos and make some wins:
Select the house that issues the biggest first deposit bonus, absolutely no matter what wager requirements. It is important to get the maximum amount of free money and a higher percentage, so that the amount of money risked from your pocket could be lower.
Find the casinos that do not require account verification and ID confirmation so that you can get more of bonuses
Choose the games with a high dispersion, test them using the free mode.
Get to play the generous slot machine with bonus rounds, free spins and multipliers.
Start a game on average rates like if there is 1000 CAD, you can afford to bet at a 10-15 CAD rate. Provided that you previously tested the machines and if you are lazy or don't have the time, or you don't know how to do, play at rates of 5-7.5 CAD, avoiding those video slots that dont want you to play, but only collect your money.
Choose such slot game where you can resume your bonus game even after the game is closed and it is activated the next time you launch the game.
Playing with a positive mathematical expectation, you will win money over time. Especially that the developer gives you the ability to do this with a positive mathematical expectation.
There are many ways to cheat at online casinos and here we will bring forward for you all of the above cheats as well as how you can apply various cheats and hacks at online casinos and have no harm to do so.
Cheats and Hacks- Slots for Android
There are numerous cheats and hacks to apply when playing slots for android. You will find here how to get free coins when playing slots for android specially the cell phone apps and Facebook games.
Also how to get free credits to play eSports online.
Where you can find such Slots at online casinos which you can play with your Android device and win
How to get no deposit bonus codes to plays slots at Canadian online casinos
The loosest online slots in Canada
Where not to play slots in Canada
Cheats to win random jackpots in slot games
How to get free spins in slots for android
Betting cheats in slots and various other good cheats to enjoy real money slot machines in Canada.
Find various such cheats and easy to do hacks which are not going to get you in any trouble.
But finally note that players who cheat with illegal methods have to face severe penalty. Many a times there online casino accounts are closes and balance is confiscated.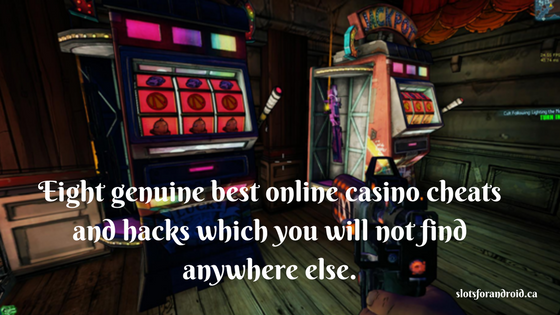 There are several ways of cheating online casinos and when talking to players who already managed to cheat the casino
Read more