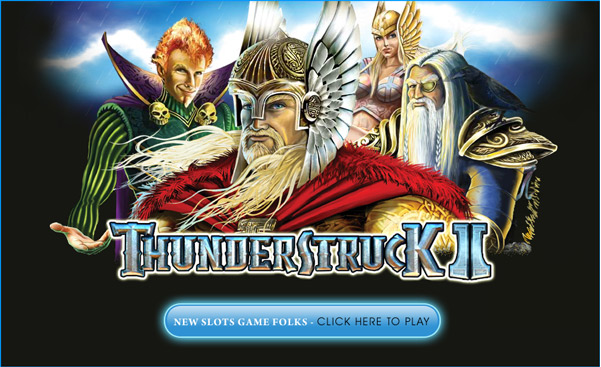 Slot enthusiast in Canada are probably familiar with the game Thunderstruck. For many years it has been one of the most popular games at the online casinos. It was only natural for Microgaming to find a way to follow up this popular original game with a sequel. Thunderstruck 2 is not like a lot of other sequels. It has managed to not only match the previous game, but exceed it in many ways.
It has a different way to play the game and win, it has better graphics and better sound effects. Anyone that has enjoyed the original will not have a problem enjoying Thunderstruck 2. For the players that have never played the original, Thunderstruck 2 is able to stand on its own as a great slot machine to play.
The Game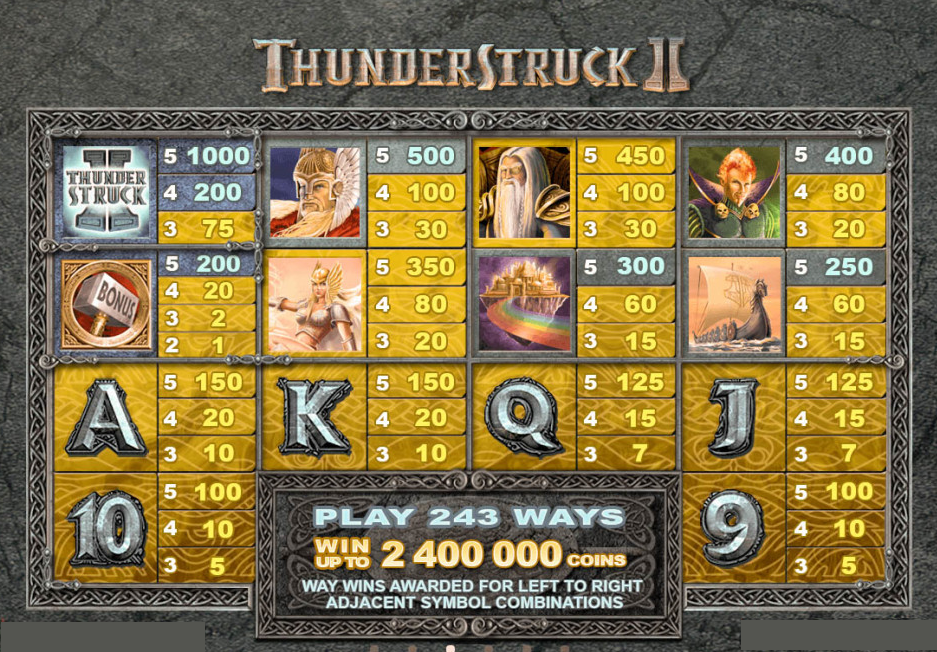 Thunderstruck 2 is a 5 reel slot machine like the original. It does not use any pay lines that players are used to. Instead, there are 243 different winning combinations that can be found on every spin of the reels. The game has a theme based on Norse mythology. The power of the gods will be very evident as the game is played.
The game accepts coins from $.01 to $.05. A player can bet a maximum of 10 coins on every spin of the reels. The maximum amount that can be won when playing Thunderstruck 2 is CAD$2,500,000.
The Features
In addition to the outstanding graphics and sound effects, the game has plenty of other features that players will enjoy. Wild symbols, free spins, multipliers and bonus games can all be found on Thunderstruck 2.
One of the main features of the game is called the Wild Storm. This feature offers a player one free spin. During that spin there is the chance of up to 5 expanding wild reels.
Another feature of this game is the Great Hall of Free Spins. Players enter the great hall when they get three or more of the bonus hammer symbols on the screen during a spin. The hall features four different Norse gods. The player can choose which one of the gods they want to follow.
Valkyrie's: Players get 10 Free Spins where wins are multiplied by 5.
Loki Free Spin Bonus: Players can get up to 15 Free Spins and will find randomly created wild symbols.
Odin: Players get 20 Free Spins and have a chance of earning 2x, 3x or 5x Multipliers on winning symbols.
Thor: The biggest Norse God gives players 25 Free Spins upon you and the Rolling Reels. These reels fall off the screen when there are wining symbols that can be replaced with other winning symbols that can increase the amount that is won. The multiplier increases with multiple wins and ranges from 2X to 5X.
How to Play
Players can find Thunderstruck 2 at most of the casinos in Canada that offer the games from Microgaming. It is available for both PCs and phone devices like your Android cell phone. It is a game that people will quickly become addicted to playing if they are not careful.
Thunderstruck 2

,