What are the features of latest Google Messenger and which telecom provides it in Canada?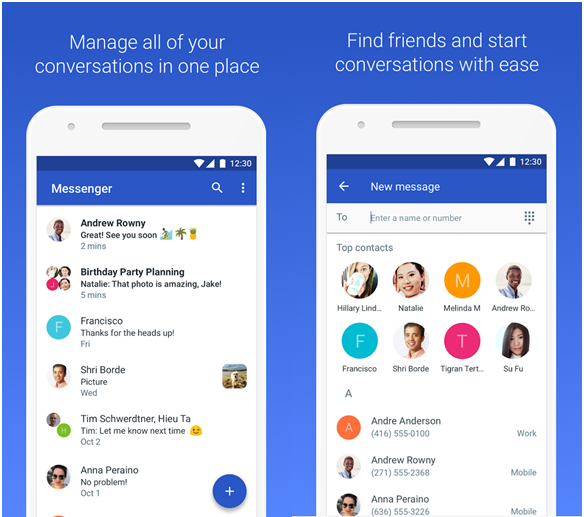 You love to use messenger often as that is the best method of communication texting to your friends or colleagues from work. The messenger is easy to use and is a quick method of communicating where ever you are. There are many companies designing SMS messaging apps, with Chomp SMS, EvolveSMS, GO SMS Pro, Handcent Next SMS, being just a few examples.
When you speak of Google then you have the Google messenger with Android OS, the latest being Android 7.0 Nougat, Google Messenger for your cell phones.
The latest Google Messenger update brings RCS (Rich Communications Services) to its messaging services, which go beyond the simple voice and SMS messages. This platform provides users with instant messaging or chat, one-to-one chats, group chats and live video, as well as the ability for file sharing (photos, files, and locations), reading receipts, the capacity to see the other person typing and cross-device support on any network using data or Wi-Fi.
Latest news is that Rogers have teamed up with Goggle and will be the first Canadian telecom to bring their customers the upgraded RCS Google Messenger. You can download the app in the Google Play Store, but in the future, Rogers will include the Messenger for Android, as their default message app. Rogers will also be rolling out the enhanced features to both Rogers and Fido customers, and you will be notified when the enhanced features are working and for other Canadian carrier they would start handling Google Messenger in future hopefully
Google is pushing Messenger around the globe, in the US, some European carriers, and Canada. It really could be the closest thing to iMessage for the Android world. According to Google CEO Sundar Pichai Apple users of iMessage will eventually be able to communicate directly with Android users on Messenger and visa verse. Messaging is an example of what might be possible in the future where everyone can communicate with each other, regardless of what platform they are using be it your Android smartphone or iPhone.